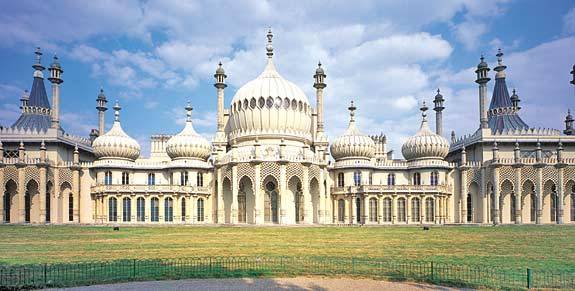 This week I heard David Beevers, "Keeper" of the Royal Pavilion at Brighton in England speak (in his lovely British accent) about Chinoiserie. Brighton, as you may know was King George IV's "pleasure palace" built from 1787-1823. It's famous for its "exotic oriental appearance both inside and out." Chinese images and references abound- bamboo, pagodas, dragons... I've always liked Chinoiserie so it was fun to learn a bit more about its origins.

Apparently Chinoiserie as a term didn't start being used until 1845. It was a fantasy of what Europeans thought far eastern countries were like. No one knew much at all about these cultures and the Chinese were baffled by the style when they did get to see it. The motifs the English, French and others used for Chinoserie were sought for strangeness and novelty, not necessarily beauty. Because China was so inaccessible, a lot was left to the imagination.

Beevers said that Chinoiserie was viewed by the English as an escape from Classicism and reason and thereby viewed as a free, somewhat frivolous and informal look.

Photos of Brighton don't exactly look like what I call informal! But formal or informal, if you have a hankering for Chinoiserie in your home decor, you can get a fix from our Bamboo candles or our 11" long Penhaligon's fireplace matches in a charming English tin with a drawing of Brighton Pavilion on it. They make fantastic gifts from $15 and up.... You may even feel transported to China-or at least Brighton.